COVID-19 Funeral Assistance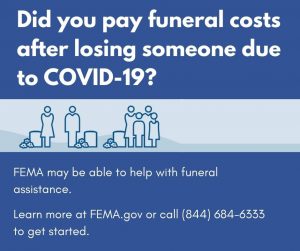 The COVID-19 pandemic has brought overwhelming grief to many families. At FEMA, our mission is to help people before, during and after disasters. We are dedicated to helping ease some of the financial stress and burden caused by the virus.
Under the Coronavirus Response and Relief Supplemental Appropriations Act of 2021 and the American Rescue Plan Act of 2021, FEMA is providing financial assistance for COVID-19 related funeral expenses incurred after January 20, 2020. Apply by clicking here.
Certified Copies of Vital Records
Certified copies of Birth, Death and Marriage Certificates are available in the Town Clerk's office for events taking place in Windsor Locks and for those who were residents of Windsor Locks at the time of the event. The cost for a certified copy is $20.00. Please see the following links for further instructions on obtaining a certified copy.
In order to receive a certified copy by mail, please include:
A check (or money order) payable to the town of Windsor Locks
A completed application request (below)
A return envelope with postage
A copy of your photo identification
Mail completed form, payment, and appropriate ID to:
Town Clerk
ATTN: Vital Records
Town of Windsor Locks
50 Church Street
Windsor Locks, CT 06096
Online and Phone Order Requests
Online service is available with additional fees for birth, death, and marriage certificates (excludes stillbirth and fetal death records) through VitalChek Network, Inc. Visit the VitalChek website at www.vitalchek.com.
Note that VitalChek is the only third-party vendor approved by the Connecticut Department of Public Health.
How Do I make a correction or Amendment to a Vital Record?
You must provide to the registrar of the town where the vital event took place, a notarized affidavit affirming that the existing vital record is incorrect or incomplete, and that the newly provided information is accurate. Along with your affidavit, you must submit documentation proving that the information to be entered onto the record is accurate.
Contact the Vital Records office in the town where the vital event occurred for further information to determine what type of documentation will be needed to support the requested amendment or correction.
Apostille
Requesting a Vital Record with an Apostille
If you are using a vital record for an international purpose, such as to apply for dual citizenship or to marry in a foreign jurisdiction, you may need to have the vital record certified with an Apostille. An Apostille is a special form of certificate authentication prepared under the terms of an international treaty known as "The Hague Convention Abolishing the Requirement of Legalization for Foreign Public Documents." In Connecticut, the Office of the Secretary of State is designated to issue certifications by Apostille.
For questions and fees related to obtaining an Apostille for a vital record, please contact the CT Office of the Secretary of State  or:
CT Secretary of State
30 Trinity Street
Hartford, CT 06106
(860) 509-6002
Genealogical Research
If you are a current member of a genealogical society that is incorporated or authorized to do business or conduct affairs in Connecticut, you are entitled to access all vital records except confidential files related to adoption, paternity, surrogacy agreements, and sex amendments related to gender re-assignment (see the current list of incorporated genealogical societies on the CT State Library Website). Also, note that genealogists may not access the social security numbers on vital records consistent with federal law.
If you would like access to the Windsor Locks Vital records you may make an appointment by calling (860) 624-1441 to do genealogical research or you may do research with the State Vital Records Office at (860) 509-7955.  The vital records registry maintained by the State only contains records from 1897 to the present.  For older records, you will need to contact the local vital records office or the Connecticut State Library.
You are required to provide your valid genealogical research card at the time of your appointment.
Naturalization is the process by which an alien becomes an American citizen. It is a voluntary act; naturalization is not required.
Prior to September 27, 1906, any "court of record" (municipal, county, state, or Federal) could grant United States citizenship. Often petitioners went to the court most geographically convenient for them. As a general rule, the National Archives does not have naturalization records created in state or local courts. However, a few indexes and records have been donated to the National Archives from counties, states, and local courts. Researchers should contact the National Archives facility serving the state in which the petitioner resided to determine if records from lower courts are available. In certain cases county court naturalization records maintained by the National Archives are available as microfilm publications.  Records from state and local courts are often at state archives or county historical societies.
Beginning September 27, 1906, the responsibility for naturalization proceedings was transferred to the Federal courts. It took time for the lower courts to let go of the practice, so researchers may need to look at lower courts if the National Archives does not maintain a record of naturalization from the early-mid 20th century.
In general, naturalization was a two-step process* that took a minimum of five years. After residing in the United States for two years, an alien could file a "declaration of intention" ("first papers") to become a citizen. After three additional years, the alien could "petition for naturalization" ("second papers"). After the petition was granted, a certificate of citizenship was issued to the alien. These two steps did not have to take place in the same court.  [*Exceptions can include cases of derivative citizenship, processes for minor aliens 1824-1906, and special consideration for veterans.]
If a naturalization took place in a Federal court, naturalization indexes, declarations of intention (with any accompanying certificates of arrival), and petitions for naturalization will usually be in the National Archives facility serving the state in which the Federal court is located. No central index exists.