Countdown Until November Election Day
REFERENDUM
THURSDAY, JUNE 10, 2021
If you wish to vote via absentee, your ballot must be returned via mail and received by the clerk's office by the referendum date OR your ballot should be deposited in the secure drop box no later than 8 p.m. on referendum day Thursday, June 10, 2021.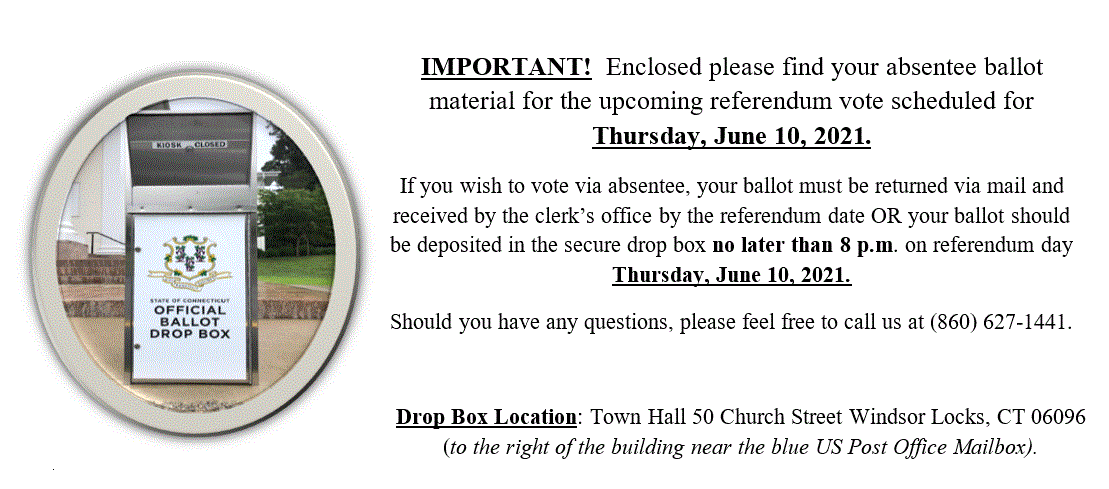 How do I register to vote?
Online at any time at CT Online voter registration system
In-person at the Registrar's Office on Tuesday's & Thursday's from 9:00 am – 11:00 am at Town Hall.
Via paper application:

Available in the Town Hall lobby
ABSENTEE BALLOTS
Process for Absentee mail-In / Drop-Off Ballots
The CT Secretary of the State will mail absentee ballot applications to ALL registered voters who registered prior to August 26th!

Voters who register AFTER August 26th will receive their application from Windsor Locks Registrars of Voters along with a voter registration acceptance letter
Applications will be mailed between Tuesday, September 8th & Friday, September 11th
If you do NOT receive your application via mail by the end of September, please:
The ballot will be mailed to voter once your application has been received by the Town Clerk.
Ballots will NOT be available until after October 2, 2020.
Return your ballot as soon as possible

Use of Official Ballot Drop Box recommended & strongly encouraged due to potential delays with Postal Services
The Official Ballot Drop Box is located outside of Town Hall (50 Church Street Windsor Locks).
Or mail via provided postage-paid envelope
Track Your Absentee Ballot by clicking HERE
Online system upgrades include:

If application received by Town Clerk
If ballot issued by Town Clerk
If completed ballot received by Town Clerk
PERMANENT ABSENTEE BALLOTS
*NEW LEGISLATION*
Public Act 12-57, "An Act Concerning Permanent Absentee Ballot Status for the Permanently Disabled" created permanent absentee balloting status for certain individuals and became effective January 1, 2013.
IN GENERAL
To be eligible for a permanent absentee ballot status, an elector must file with the Town Clerk an absentee ballot application together with a doctor's certificate stating, that the applicant has a permanent disability and is unable to appear in person at their polling place. The doctor's note should be on letterhead. There is no prescribed form—the doctor's note and the absentee ballot application would satisfy the requirement of the law.
Permanent absentee ballot status enables the elector to receive an absentee ballot for each election and primary in the municipality in which they are eligible to vote. Absentee ballots are available 21 days before a Primary and 31 days before an Election.
ELIGIBILITY
In January of each year, the Registrars of Voters will send written notice to each elector with permanent absentee ballot status to determine if the elector continues to reside at the address on the permanent absentee ballot application. If the elector fails to respond to the notice, the permanent absentee ballot status will be removed, but the elector will remain on the voter registration list.
QUESTIONS?
Contact the Registrar of Voters