2020-21 DOG LICENSING BEGINS JUNE 1, 2020 AND EXTENDED THROUGH AUGUST 1ST
DUE TO COVID-19 - MAIL RENEWALS ENCOURAGED!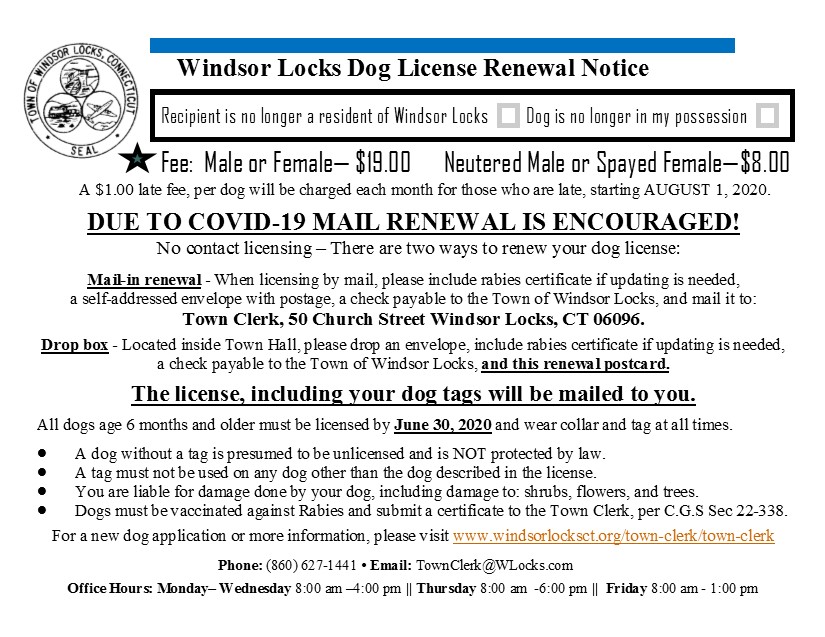 JUNE IS DOG LICENSING MONTH!
Due to the Coronavirus, we are changing how we will license dogs this year – no contact licensing.  There are two ways to renew your dog license:
Mail-in renewal - When licensing by mail please include, rabies certificate if updating is needed a self-addressed envelope with postage and mail it to: Town Clerk, 50 Church Street Windsor Locks, CT 06096. 
Drop Box – located inside Town Hall. Please drop an envelope, include payment, rabies certificate if updating is needed, and a self-addressed envelope with postage. Please note, we cannot issue change, so please leave the exact dollar amount!
Once we receive the information we will process and mail the license including your dog tags back to you.
All dogs age 6 months and older must be licensed by June 30, 2020.  The cost is $8.00 for dogs who are altered and $19.00 for those who are not.  A $1.00 late fee per dog will be charged each month for those who are late, starting AUGUST 1, 2020.  All dogs must have proof of current rabies vaccination on file.
When licensing your dog by mail, please send:
A completed Dog License Application if you have never licensed this dog before (CLICK HERE)
the Certificate of Rabies if the one on file has expired
the Spay/Neuter Certificate
Self-addressed stamp with postage
Veterinarians may fax us updated rabies certificate to (860) 654-8900
and a check made payable to the Town of Windsor Locks applicable to:
Town of Windsor Locks
Attn: Town Clerk
50 Church Street
Windsor Locks, CT 06096
Please include a self-addressed, stamped envelope with postage for the return of your tags.
Dogs not registered by June 30th are subject to a penalty of $1.00 per month late fee, in addition to any fees incurred by the Animal Control Officer for unlicensed dogs. For questions about fees, please contact the Animal Control Officer at 627-1461.
Fees are as follows:
| | |
| --- | --- |
| Spayed or Neutered | $8.00 |
| NOT Spayed or Neutered | $19.00 |
| 10-tag Kennel | $51.00 |
| Transfer from another Connecticut Town | $1.00 |
| Replacement for lost current tag | $.50 |
| Per month penalty for late registration | $1.00 |